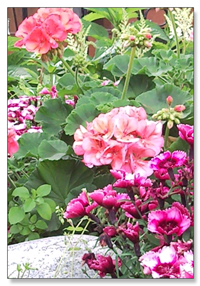 From concept to completion, The Natural touch is your landscape services and design partner.
Since 1994, The Natural Touch has been exceeding the expectations of residential and commercial property owners throughout the Niagara Region. Our award-winning, professionally trained team of enviromental technicians and horticultural specialists bring extensive expertise in the areas of construction, design and maintenance.
Our professional staff members include Mr. Jeff Neilson, Horticulturalist and Head Gardener, and Mr. Derek Bennett, Construction Manager. Michael Brooks, President of The Natural Touch Landscape Services is a graduate of The University of Guelph and an approved professional member of Landscape Ontario and The Canadian Nursery Landscape Association since 1998. Together, our company has over 75 years of education and work experience to bring creative and innovative ideas for your landscaping needs.
The Natural Touch has maintained a 97% client retention rate with many customers extending their contracts for multiple years. The quality of our work has led to 21 Trillium Awards since 1996. Current award winning condominium clients can be found at 614 Lake Street, 77 Erion Road and 141 Wellandvale Road.
Our full ranges of services include landscape design, installation, property maintenance and snow removal. We are also experienced in the installation of water features, wood decks and fences, stone patios and driveways and retaining walls. The Natural Touch Landscape Services is also an authorized installer for Unilock brick products. In order to provide you with the most up to date trends and technology in the field, our employees and continuously receiving training and information through courses and seminars and our equipment is top-of-the-line and well maintained.
Whether you are looking for a maintenance program or a complete redevelopment of your outdoor living space, the professionals at The Natural Touch will offer creative and innovative approaches to help you realize the full potential of your property.
Let The Natural Touch show you how years of experience, state-of-the-art-equipment and an uncompromising eye for quality workmanship and attention to detail, can turn your next outdoor living project into a sucess.